Taking Over the Globe: Cork and London-based international recruitment agency, PE Global, scoops KellyOCG®'s Supplier Excellence Award for eighth year running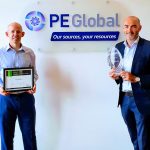 In Greek numerology the number 8 stands for ambition, vision, confidence, professionalism and success, all of which PE Global has in abundance.
Cork and London-based recruitment specialists PE Global celebrate their eighth win in a row at the recent Supplier Excellence Awards held online this year. The annual awards ceremony, which is spearheaded by KellyOCG® – the outsourcing and consulting group of Kelly – honours top-performing national and global suppliers whose service, results and strategic partnerships have made a significant impact on KellyOCG's business.
PE Global was among the top suppliers from across Europe, Asia Pacific and the United States who were recognised for providing superior workforce solutions. Established in 2005, the leading international recruitment agency specialises in offering tailored recruitment solutions to companies and organisations in the domestic and international markets. Irish-based and with its main headquarters located in Little Island, Cork, PE Global boasts a thorough understanding of the technologies and technical manpower requirements of the industries it works across, while the company's highly motivated team of recruitment consultants are renowned for offering tailored permanent, contract and temporary recruitment solutions to companies and organisations globally.
They are an official partner with Kelly OCG, who have been hugely forthcoming with praise for PE Global's ongoing commitment to excellence. This year was no different, with the recruitment specialists once again finding themselves in the running for an accolade. All award-winning suppliers were evaluated based on three criteria:
Scorecard results of their performance within KellyOCG-managed programs
Compliance with legal and program-specific requirements
Engagement survey results from KellyOCG stakeholders assessing the ease of doing business with the supplier and the supplier's partnership approach
Commenting on PE Global's prestigious win, Managing Director, Keith McDonagh said: "PE Global are honoured to accept this award in recognition of our efforts to provide diverse delivery models and capabilities. Our relationship with KellyOCG relationship began in 2008 and has continued to develop ever since.  PE Global has been providing contract resourcing and placement to date and we are now an official worldwide partner with Kelly OCG."
McDonagh continued "We work with a vast pool of talented individuals across multiple sectors and this dedication to quality has enabled us to build strong, reliable professional relationships with our partner companies both at home and abroad. It is a wonderful thing to be recognised for this ongoing commitment to quality. This is our eighth year being honoured by KellyOCG®, but we are as proud of this award as we were of the first. It acknowledges our continuous effort to maintain high standards and raise the bar when it comes to our own performance."