Permanent IT Positions Available At Global Pharmaceutical Client
Permanent IT Positions Available At Global Pharmaceutical Client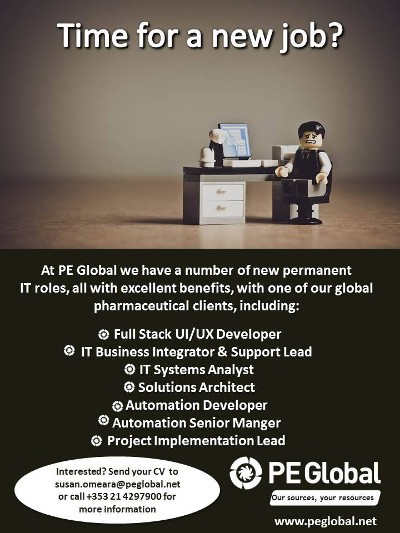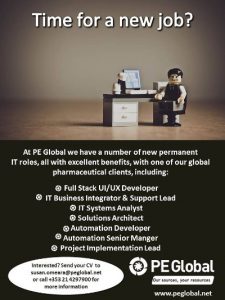 When it comes to pharmaceutical jobs at PE Global we have a number of new permanent IT roles with one of our global pharmaceutical clients, all of which have excellent benefits.
Some of these roles include a Full Stack UI/UX Developer, IT Business Integrator & Support Lead, IT Systems Analyst, Solutions Architect, Automation Developer, Automation Senior Manager as well as a Project Implementation Lead.
At PE Global we work with some of the world's largest pharma companies and we have a high success rate in placing people in both permanent and contract jobs in various disciplines in Ireland and the UK.
As a leading international Recruitment Agency we are renowned for providing highly technical and innovative people on behalf of pharma and other clients and we have successfully gained an outstanding track record for excellence with these clients.
If you are interested in this or other roles send your CV to queries@peglobal.net or call +353 21 4297900 for more information or visit www.peglobal.net